Wellness Specifically for UCI Health Employees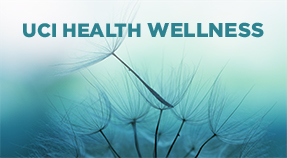 In addition to all of the wellness programs available to UCI and UCI Health employees enterprisewide, we have launched specific offerings to support our frontline employees at UCI Health.
---
Make Your Financial Goals Possible - Onsite Office Hours with Fidelity Financial Consultant
Wednesday,February 15, 12-2 p.m.West Staff Entrance, Douglas Hospital
As an employee of the University of California, you know firsthand the power of learning something new. And we're here to help you discover new ways to think about your financial future. Your UC-dedicated Fidelity Workplace Financial Consultant is ready to help you with:
Understanding your retirement benefit options at UC (Pension Choice vs Savings Choice)
Evaluating your individual situation and priorities
Rollovers into UC Retirement Savings Program
Pre-retirement planning & CAP elections
Comprehensive retirement income planning
Can't make it to Office Hours? Schedule a one-on-one appointment today. Call 800.558.9182 or register online at
Fidelity.com/schedule/UC
2023 Applications Open for Clinician Health and Wellbeing Fellowship
Applications are now open for our 2023 UC Davis/UC Irvine Train New Trainers Clinician Health and Wellbeing Fellowship. The CHWB Fellowship is a 6-month clinical education program for providers who wish to receive advanced training in clinician health and wellbeing.
Application deadline is April 1, 2023. A new cohort begins April 7th, 2023.
Who Should Apply: Clinicians in all disciplines are welcome to apply including physicians, nurse practitioners, nurses, and clinical staff interested in learning more about clinician health and wellbeing.
Click Here to Download the CHWB Flyer to Learn More
Mental Health Check-ins

These services are with Dr. Negar Shekarabi, PsyD, the Faculty and Staff Support Services Coordinator. During your mental health check-in, you can use the time to get 30 minutes of support or have an anxiety and depression screening. Both options will be followed by recommendations and referrals to improve your mental health, and you will learn about resources available to you as a UCI faculty or staff member.

The meetings are intended for supportive counseling. Treatment is not being provided during these meetings. This is not a suicide hotline. If you are feeling suicidal, please go to the nearest Emergency Room or call the National Suicide Hotline at 1-800-273-8255  or call or text the Suicide & Crisis Lifeline at 988.
On-Demand Self-Care Webinar Series for UCI Health
Self-care is not selfish. Take time to care for yourself. Watch any or all of the Self-Care Webinars on-demand. Visit the
EAP webinar page
for more upcoming live and on-demand work-life and personal development Webinars.
Self-Care for UCI Health Employees. Open to all, but topics will be specifically focusing on self-care for our UCI healthcare community.
Self-Care for All UCI Employees
Free Onsite Yoga and Zumba
Winter Schedule ends March 22, 2023200 S Manchester, 8th Floor and Bldg 27 Lawn
REGISTER HERE
As part of your UCI HR Wellness Program, Campus Recreation has partnered to offer on-site FitSquad fitness classes for UCI Health staff. Join your co-workers for a quick, convenient opportunity to work out during your work week. Live virtual classes currently not available.
The normal $5 registration fee for the full Fit Squad class series has been waived for Winter 2023. Join anytime.
REGISTRATION REQUIRED
.