Wellness Specifically for UCI Health Employees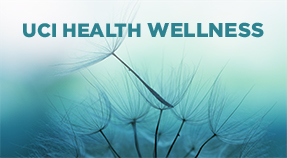 In addition to all of the wellness programs available to UCI and UCI Health employees enterprisewide, we have launched specific offerings to support our frontline employees at UCI Health.
---
Sharing Our Pandemic Experiences: Restorative Drop-in Sessions
Thursdays, 10 - 30 Minute Drop In Sessions
Thursday 4/7 and 4/14 SESSIONS CANCELED
Drop in hours*: 10:00 am to 3:00 pm or 3:00 to 8:00 pm (*see calendar - times rotate each week)
Download Flyer/Calendar
Join your co-workers in a supportive space for UCI Health employees facilitated by Dr. Gabriella Miotto. Nurses and other UCI Health employees are encouraged to drop in to participate in 10-30 min restorative sessions during the work day, consisting of open discussion and a variety of restorative practices for healing and support. Even if you can only come for a short time, please feel welcome.
UCI Health Employee COVID Support Phone Line
30 Minute Individual Support Sessions Available by Appointment
Download Flyer
Request Now
UCI Faculty/Staff Support Services is providing an opportunity for all UCI healthcare staff to connect with Dr. Negar Shekarabi for a FREE, individual, private & confidential, 30 minute support session to assist you as you navigate the current response at UCI to COVID-19 and its impact on healthcare professionals. These times are available for all health care staff to connect, get support & allow space for processing reactions and responses to the impact of COVID-19 on work and life. The meetings are private and confidential, and are intended for supportive counseling. Treatment is not being provided during these calls.
This is not a suicide hotline. If you are feeling suicidal, go to the nearest Emergency Room or call the National Suicide Hotline at 1-800-273-8255
Onsite Yoga and Zumba
March 28 – June 2200 S Manchester, 8th Floor/Bldg 27 Lawn
REGISTER HERE
As part of your UCI HR Wellness Program, Campus Recreation has partnered to offer on-site FitSquad fitness classes for UCI Health staff. Join your co-workers for a quick, convenient opportunity to work out during your work week. Virtual classes also available!
The normal $5 registration fee for the full Fit Squad class series has been waived for Spring 2022. Join anytime.
REGISTRATION REQUIRED
.