Wellness Specifically for UCI Health Employees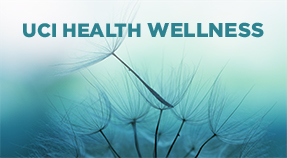 In addition to all of the wellness programs available to UCI and UCI Health employees enterprisewide, we have launched specific offerings to support our frontline employees at UCI Health.
---
Mindfulness Course for UCI Faculty Physicians and Nurses
UCI Faculty Wellness and the UCI Susan Samueli Integrative Health Institute presents Self-Compassion for Healthcare Communities. ONLY for UCI Health Faculty Physicians and Nurses at this time.
Download Flyer

Weekly Live Online Sessions: Saturdays, September 24 - October 29, 2022, 9:00 am to 10:00 am
REGISTER BY: September 16, 2022
This adaptation of the evidence-based Mindful Self-Compassion (MSC) program aims to improve wellbeing and resilience by teaching skills to respond to distressing emotional situations. As opposed to other self-care techniques, self-compassion can be used on the spot, both at work and at home. The myriad of personal practices support us in meeting our own suffering in loving, transformative ways.
HEALTHCARE WORKER APPRECIATION DAYS
August 17 – October 16
THE BOOMERS IRVINE TEAM WOULD LIKE TO THANK YOU FOR EVERYTHING YOU DO FOR OUR COMMUNITY!
Healthcare Workers will receive a FREE Elite Ticket when they visit August 17-October 16.
Elite Tickets are an All-Day Attraction Pass plus 50 Arcade Credits! (Batting cages are not included. Additional Arcade can be purchased.)
Healthcare workers should bring a work ID (with a photo on it or accompanied by a valid photo ID) or pay stub with them to the park to access their free Elite Ticket. More details at boomersparks.com. 
Once ID is presented, guest will receive one complimentary Elite ticket
Employee can purchase guest tickets (same day) for $37.50 each (max 6 discount tickets) – Please check current promotions for competing offers
Complimentary Elite Ticket is valid the date of visit only
Discount Guest Tickets are valid the date of purchase only and must be accompanied by the ID holder
Ticket not valid with group admission
Ticket not valid with any other promotion or discount
Please contact Jenny Myers if you have questions at jmyers@boomersparks.com. 
UCI Health 2022 Summer Self-Care Webinar Series: Now On-Demand
Self-care is not selfish. Take time to care for yourself. Watch any or all of the Summer Self-Care Webinars on-demand. Visit the
EAP webinar page
for more upcoming live and on-demand work-life and personal development webinars.
Self-Care for UCI Health Employees. Open to all, but topics will be specifically focusing on self-care for our UCI healthcare community.
Self-Care for All UCI Employees
UCI Health Employee Support Phone Line
30 Minute Individual Support Sessions Available by Appointment
Download Flyer
Request Now
UCI Faculty/Staff Support Services is providing an opportunity for all UCI healthcare staff to connect with Dr. Negar Shekarabi for a FREE, individual, private & confidential, 30 minute support session to assist you as you navigate the current response at UCI to COVID-19 and its impact on healthcare professionals. These times are available for all health care staff to connect, get support & allow space for processing reactions and responses to the impact of COVID-19 on work and life. The meetings are private and confidential, and are intended for supportive counseling. Treatment is not being provided during these calls.
This is not a suicide hotline. If you are feeling suicidal, go to the nearest Emergency Room or call the National Suicide Hotline at 1-800-273-8255
Onsite Summer Yoga and Zumba
July 5 -  September 8200 S Manchester, 8th Floor/Bldg 27 Lawn
REGISTER HERE
As part of your UCI HR Wellness Program, Campus Recreation has partnered to offer on-site FitSquad fitness classes for UCI Health staff. Join your co-workers for a quick, convenient opportunity to work out during your work week. Virtual classes also available!
The normal $5 registration fee for the full Fit Squad class series has been waived for Summer 2022. Join anytime.
REGISTRATION REQUIRED
.